SYDNEY: Pakistan on Sunday lost the One Day International (ODI) series to Australia in Sydney by 86 runs.
The Aussies set up a strong target of 353/6 with opening batsmen David Warner racking up 130 in the 4th ODI. Pakistan fell all out for 267.
It was Warner's sixth century in his last 11 innings in Sydney, including his hundred before lunch in the third Test against Pakistan in January.
It was also his fifth century in 13 ODIs innings this season, matching Matthew Hayden's Australian record.
After combining in a 92-run opening partnership with Usman Khawaja (30), Warner added 120 with captain Steve Smith (49) for Australia's second wicket to set the tone of the innings.
Warner and Smith were out within two balls of each other in the same over bowled by Hasan Ali as Australia's innings briefly faltered and it slipped from 212/1 to 213/3.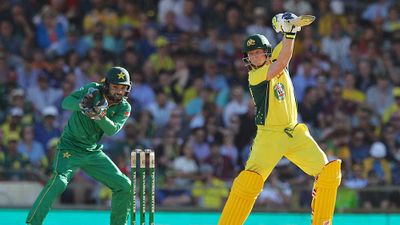 But Travis Head (51) and Glenn Maxwell (78) then added a century partnership from 63 balls to restore Australia's momentum.
Maxwell was out to the last ball of the innings after reaching his half century from 34 balls and taking his 78 runs from only 44 deliveries with 10 fours and a six.
Pakistan now faces a daunting run chase against an Australian attack refreshed by the return of paceman Mitchell Starc and leg-spinner Adam Zampa as it attempts to win the match and keep the series alive ahead of Thursday's final match at Adelaide.
Warner started Sunday at a rapid pace, racing to his half century from 35 balls to match his previous-fastest 50 in one-day internationals.
He slowed a little and at one point went 41 balls without a boundary but still posted his 12th ODI century from only 98 balls with nine fours and a six.
Khawaja matched his scoring rate at the start but soon became bogged down and became Hasan's first victim, caught by wicketkeeper Mohammad Rizwan in the 18th over.
Warner was to suffer the same fate, losing his balance while chasing a wide delivery from Hasan outside off stump which found the outside edge and gave Rizwan a difficult, tumbling catch.
Warner made 130 from 119 balls, with 11 fours and two sixes.
Smith had a life on 10 when he was dropped in the gully and survived Pakistan's review of an lbw appeal when he was 41.
His luck ran out one run short of his half century and two balls after Warner had fallen when he walked across his stumps and was struck low on the pad by a ball that tailed in.
He was judged lbw and his attempt to overturn that decision on review was unsuccessful.
Maxwell was willing to fling the bat from the outset and hit the ball to all parts of the Sydney Cricket Ground.
He was assisted, as were all Australia's batsmen, by a dismal fielding effort by Pakistan which featured at least five dropped catches and a heavy tally of misfields and overthrows.
Head brought up his half century and his century partnership with Maxwell with a six from Mohammad Amir.
He had faced only 35 balls but was out one ball later, caught in the deep by Shoaib Malik from Amir's bowling.
Maxwell carried on, striking three fours from the last over, before providing Hasan with his last victim of the innings. Hasan bowled superbly to finish with 5-52.
Liked the story? We're a non-profit. Make a donation and help pay for our journalism.