As we sit by the banks of Jhelum watching the waters rise yet again, hoping for the tide to ebb, I remind myself of the tiny lanterns of hope that still keep our cold, damp hearts aglow.. 
Dr Saba Shafi Makhdoomi
October 18| Although I remembered the devastation that those floods of 2014 had brought, yet today my mind had become sentient of the beauty that it had unmasked. The filthy, raging river that had broken into our homes, ransacking and muddying everything had managed to purify hearts. As if by sheer magic. That water mixed with excreta, putrid, rancid and offensive had made hearts kinder, tender and more attentive towards each other. All boundaries had been broken. All human structures had come to naught. There was no hierarchy anymore. We had all become one. Not only had the embankments given way, but so had the barriers of our useless citadels been broken down. No facades remained. We all became 'basic.' 'Basically' kind.
It makes me wonder now, so many years later, what the whole purpose of such disasters that befell mankind, was? We are taught to believe that they signify God's wrath. His way of punishing us. We assimilate and internalize this belief. And that is exactly where we stop. Once the 'punishment' is over, we go back to our old ways. We think we have paid for our 'excesses' by being lucky enough to have survived. We forget whatever we were beginning to understand and there we are, back to where we had started from. What did such cataclysms mean to me now? What did I want to believe they stood for?
Was there a tiny vessel of hope submerged somewhere underneath all that muck?
Not only had I heard of it, but seen it. Experienced it. And here was the first time I felt moved enough to write about it. Sometimes, we suffer our own little tempests, our own raging storms. And only then, can we, somehow connect the dots and wait for a beautiful landscape to unfold before our impatient, oblivious, unseeing eyes.
We were that vessel of hope. We were living in one and we housed these little lamps of light in our bosoms. Each one of us.
The first thing that the water managed to raze to the ground were the concrete walls we had built around our vain little castles. And as the wall behind our house was beginning to collapse, my father and my brothers, managed to usher our neighbors, ones we had never even seen or spoken to before, into our home.
A ladder was thrown from the window of our house to the window of the neighboring house, ropes were tied and men and women were pulled in, slowly, carefully, away from danger, while the water beneath steadily rose up.
The flood fury had started at 4 in the morning and by the time it was 11, there were twenty five people, in one huge room. All desperate. All frightened to death. Holding onto dear life and holding each other's hands in a prayer. Strangers praying for each other's safety.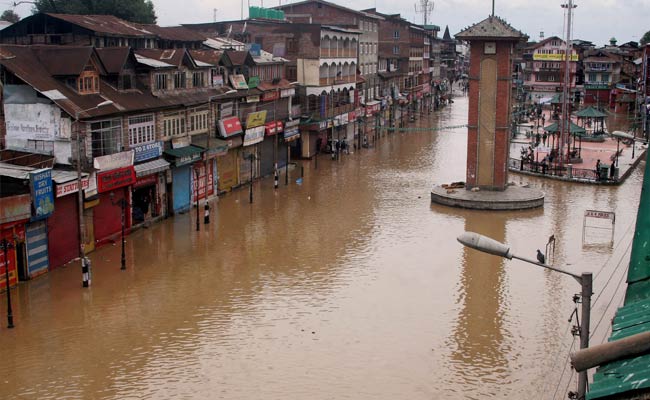 I remember making frantic calls to my uncle, begging him to somehow save us. The first boat that reached our end carried my old grandparents in it, for they were the ones that needed to be sent away to safety first, lest the water continued to rise and one may have to, then climb up the wall and roof, quite literally!
We begged the boatman to return. For there were children in our house and they needed to be sent away as well. As soon as possible.
As our anxiety grew, as we kept pacing from one end to another, some of us immobile, some garrulous, while others stunned into silence, some rocking their bodies to nurse themselves, others holding their heads in their hands in exasperation, in utter disbelief; strangers looking in each other's eyes for some sign of hope, something very profound happened. After waiting for what seemed like an eternity, a boat (shikara) finally came toward our end. As we kept staring at it, waiting to jump into it, we heard a sudden thud and shrieks of men crying out for help. An old house had dissolved in the water and collapsed. It took us not even a second to yell at the boat to turn back and help those drowning men. We still had a floor beneath our feet, they didn't. Their need was greater than ours. How often did God give us a chance to prioritize others' needs before our own?
Something in our hearts told us that this act was a reward in itself. If we were redirecting our boat for someone else, He would surely keep us safe in His palm.
Slowly the number of people in our house dwindled as they were ferried away one b one.
It began getting dark and we knew in our hearts that this is where we were supposed to stay the night. And it was going to be one long night.
We were a unique mix. An unlikely conglomeration.
A Nepali tea seller, with his wife and child. A retired senior police officer, his amicable talkative wife, his bodyguard along with his little son, and his servile cook. A young Kashmiri brahmin pharmacist. An old man that worked with our neighbors as their domestic help who couldn't join his employers and the five of us; my parents, my brothers and our dog.
This was our ark (going the full arc!). No class divide. No religious barricade.
Banda o sahibo mohtaaj o ghani ek huye
Teri sarkar mei pahunche to sabi ek huye
We survived the night of ordeal. Dark, long and arduous as it was, we took turns in holding the night's vigil, still unsure as to how much the water might rise. Thankfully though, it reached no more than 22 feet! And we were still safe in the top most floor of our two storeyed house.
As the first ray of dawn fell on our tired foreheads, we awoke to the sound of men chanting verses from the Quran. This was my father and Sabzar who were reciting those words through tears of helplessness and desperation. Men marooned in their own houses. As they sensed that those still sleeping around might get disturbed, they quietly got up to vacate the room. And suddenly, the police officers' wife implored they continue their praying there, for it made her feel calm and she got up and, a practicing Buddhist that she was, folded her hands and began meditating with them. This is what 'breaking of walls' signified. At a far deeper, more profound level. These walls were redundant, superfluous. And we knew it inherently. Yet we tended to forget so easily.
We ate from one plate, each one of us. Social stratification was non-existent. No one was beneath anyone.
"Ek hi saf mein khade ho gaye Mahmood-o-Ayaz
Na koi banda raha aur na koi banda-nawaz"…
We were all hungry. Yet we were considerate towards each other. We had the capacity to not only admit the 'other,' but we could do it with the utmost love and care.
And no, it wasn't just humans that were important. I recall my father throwing bread crumbs on the floor of our room and birds coming right near us and pecking at them, from his stout hands. 'How thoughtful can he be!' I thought to myself. Careful enough to ensure not even the birds went hungry. It made me smile with filial fondness.
Young boys from Downton Srinagar (the areas unaffected by the floods but not 'untouched' certainly!) passed through our houses submerged in water, in innovative boats made of tin and wood, throwing packets of food and water to those who were stranded. Complete strangers helping each other.
And one such group of young men gave us tiny lamps made of mud, diyas, to illuminate our dark nights….
These were the tiny lamps of hope we needed to cling onto….
Long after the murky water had receded, more than before….
I wanted to cup this diya with my hands and protect it from the blowing winds that threatened to extinguish it.
For such lamps could help us navigate through the darkest of nights. Such lamps could somehow light our paths and direct us there…
(Dr Saba Shafi Makhdoomi is a doctor by profession currently working in a Cancer hospital in Delhi. Her debut novel 'Leaves From Kashmir' has recently been published.)
Views expressed in this article are of the author's own. 
Liked the story? We're a non-profit. Make a donation and help pay for our journalism.